The Mississipi John Hurt page
Introducing the Award Winning,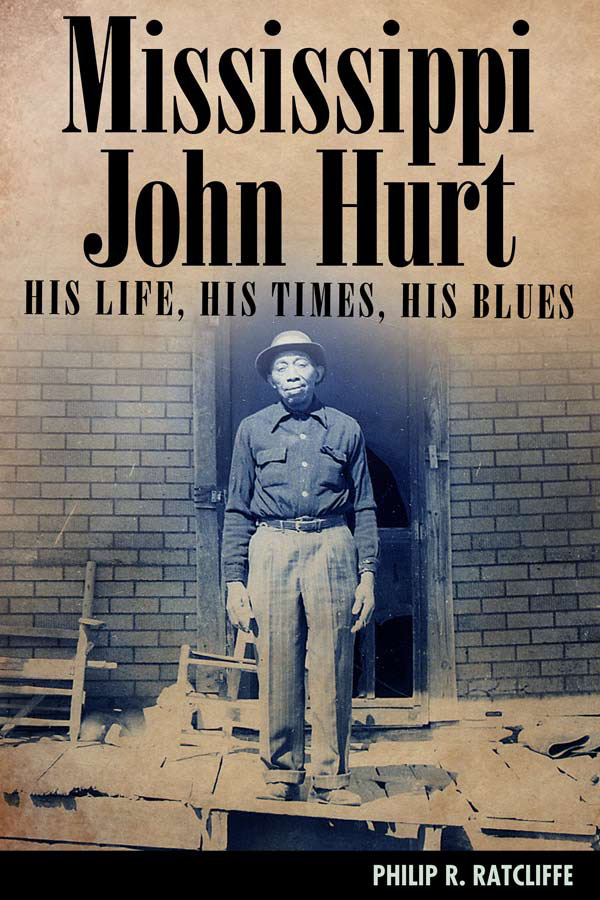 with foreword by
Mary Frances Hurt Wright
ĎAmerican Made Music Series,í
University Press of Mississippi
Link to University Press of Mississippi video interview with authorhttp://vimeo.com/27592642
Link to Interview with Author on Uprooted Music Review
http://www.uprootedmusicrevue.com/2011/11/author-dr-philip-ratcliffe-discusses.html
and, No Depression
http://www.nodepression.com/profiles/blogs/interview-with-author-dr-philip-ratcliffe-on-mississippi-john?xg_source=activity

Link to book details with the University Press of Mississippi
Link to details of ARSC Award for Best Research in Recorded Blues, Rhythm & Blues, or Soul Music, 2012
The University Press of Mississippi has this to say,
The first biography of the blues revivalís most influential and authentic musician
When Mississippi John Hurt (1892Ė1966) was ďrediscoveredĒ by blues revivalists in 1963, his musicianship and recordings transformed popular notions of prewar country blues. At seventy-one he moved to Washington, D.C., from Avalon, Mississippi, and became a live-wire connection to a powerful, authentic past. His intricate and lively style made him the most sought after musician among the many talents the revival brought to light.
Mississippi John Hurt provides this legendary creatorís life story for the first time. Biographer Philip Ratcliffe traces Hurtísroots to the moment his mother Mary Jane McCain and his father Isom Hurt were freed from slavery. Anecdotes from Hurtís childhood and teenage years include the destiny-making moment when his mother purchased his first guitar for $1.50 when he was only nine years old. Stories from his neighbors and friends, fromboth of his wives, and from his extended family round out the community picture of Avalon. U.S. census records, Hurtís first marriage record in 1916, images of his first autographed LP record and excerpts from personal letters written in his own hand provide treasures for fans. Ratcliffe details Hurtís musical influences and the origins of his style and repertoire. The author also relates numerous stories from the time of his success, drawing on published sources and many hours of interviews with people who knew Hurt well, including the late Jerry Ricks, Pat Sky, Stefan Grossman and Max and Holly Ochs, Dick and Louisa Spottswood, and the late Mike Stewart. In addition, some of the last photographs taken of the legendary musician are featured for the first time inMississippi John Hurt.
Philip R. Ratcliffe, Dunoon, Argyll, United Kingdom, is an independent ecological land-use consultant, and a musician and ardent blues fan.
Mississippi John Hurt's granddaughter,Mary Frances Hurt Wright has this to say in her introduction to her grandfatherís story,
This book confirms what I have known and have come to accept and appreciate for most of my life; that my Daddy John had a supernatural spirit that had a far greater effect on people than his music alone. I did not arrive at this personal and profound revelation based on the numerous musicians that have been inspired by him. Frankly, it was not his music, but his strong mythical spirit that has had such a resounding affect on my life!
Through the spirit of Daddy John, Phil and I met. When Phil called me weeks after the festival was over and asked how I would feel if he wrote a book about Daddy Johnís life, little did Phil or I know that Daddy Johnís spirit had already given him permission long before we met!
I am so grateful to Phil for all the hard work, travel, resources, and in-depth research, which have been applied in order to write this wonderful biography of Daddy Johnís life. It will be a prized resource for my family for generations to come. Phil and I would never have met in our lifetime had it not been for some divine intervention. Thank you Phil and Annie for our spiritual link forever!
Mary Frances Hurt Wright
How I became involved in writing the biography of Mississippi John Hurt
Link to University Press of Mississippi
Mississippi John Hurt Foundation and Museum Web Site
Listen to Mississippi John Hurt's Candy Man
Listen to Mississippi John Hurt's Spike Driver Blues